In this day and age, you won't surprise anyone with a smartphone, and ordering a cab online is such a routine. Technology turned the world upside down – made information more accessible, communication fast, and businesses global. We talked to five geeks who can't imagine their lives without modern tech. Be it online shopping, smart home solutions, or VR games – the world of 2019 is wired.
Semen Frish
VR Engineer at SoftServe
As far back as I can remember, I have always loved daydreaming and hoped to make my dreams a reality one day. Interactive computer graphics is the fastest way for me to do it. My interest began when I was 8, and saw a first pseudo-graphic game on a green monochrome screen of the Soviet clone of PDP-11 – Elektronika MS-0501 at my dad's science lab. When I turned 12, dad built my first computer ZX Spectrum, and I immediately tried to make my own game.
First VR headset I came across back in 1995 was VFX1, a legendary flight simulator in Descent 2 asteroid mines. I immediately felt like this is something I want to do.
I like the virtual world because there are no bureaucratic or technological constraints. Both the developer and the user can do absolutely anything. My work brings me lots of new emotions. I'm absolutely excited about what I do and experience.
Virtual reality means creating, augmenting, expanding, mixing our reality, but not isolating from it. Starting in the 1920s many futurists, including the American writer Neil Stephenson, have developed the concept of Metaverse, a mix of reality with the virtual world. Something that was invented many years ago as a theory and science fiction is now becoming a reality, and this is incredible. Now, a similar Magicverse reality is being introduced by Magic Leap, which created one of the most advanced headsets currently available.
I have two VR headsets at home – HTC Vive and Google Daydream. I usually buy such devices in the United States, because that's basically the epicenter of the industry. However, everything is changing – the latest HTC Vive Focus was originally only available in China. Most of the devices I use are at work. At our R&D lab, we have almost all existing versions of VR sets – from Vuzix & GearVr to the latest Magic Leap.
In 2016, when Facebook released Oculus CV1 there was a real hype around it, and I also wanted to buy it. My colleague pre-booked this set in February, but I didn't, because I thought I won't get it in time anyway. The shipping really got delayed. I decided not to wait for Oculus and ordered HTC Vive. I got it in a less than a week, while my colleague waited for Oculus for a few more months.
VR is now transforming, and in most cases, it's AR/MR (augmented, mixed reality). I think that very soon we will have neural interfaces, devices that will communicate directly with the brain, and not just with eyes, as it is in VR now.
It is often said that smartphones and VR devices isolate people, prevent us from communicating with each other, etc. But communication problems are always more psychological than technological. There's this famous picture of people on the subway all staring into their smartphones, but there's the same one taken 50 years ago, only with people reading newspapers. It's devices that change, not human behavior.
VR is mostly used in medicine, education, retail, and other industries. Games are definitely the driving force of the VR progress. I like music and the game helps me to relax and get inspired. Speaking about apps, I like Google Blocks and Tilt Brush drawing, Unreal Engine VR Editor, which allows you to model and even code a bit directly in the headset. I think CAD apps are really in their element in AR/VR/MR headsets.
Right now I can't say whether Zuckerberg will manage to put Oculus Go or anything similar on everybody, but Magic Leap is definitely the next massively popular platform after smartphones. I believe in this and will do everything to make it happen.
Volodymyr Vrublevskyy

DevOps Engineer at SoftServe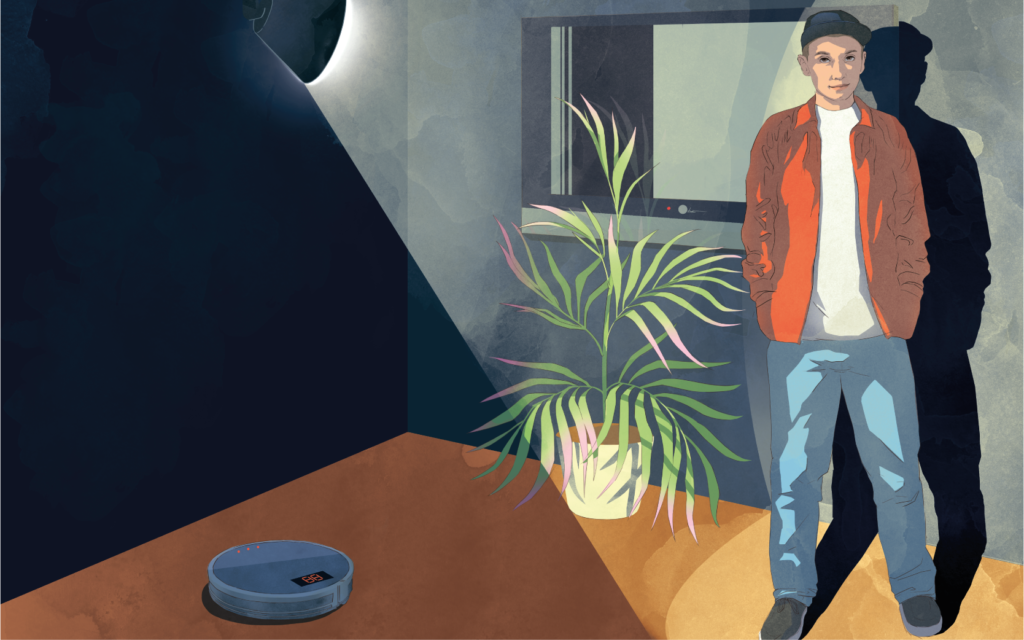 Using my voice, Alexa & Google Home Assistant I can manage lightning, ask a vacuum cleaner to clean the bedroom or complain about the cold. When I go to sleep, I just say "Good Night" to Google Home, and the magic begins: the light turns off, the assistant puts on an alarm clock, adjusts the room temperature for a comfortable sleep, and turns on some relaxing music, for example. When I say "Music Time", Google Time chooses a certain light theme and turns on music from Spotify. I can also ask to put a Netflix movie or Youtube video on a chromecast in the kitchen.
In the near future, I want to add smart window blinds, but first I would need a 3D printer, to print some blinds parts, as the ones available on the market are unreasonably expensive.

Why is it interesting? The answer is simple: I am a geek! I have always loved electronics and trying new things. I got interested in smart home systems rather recently, but I'm completely blown away. It's sad that not many people in Ukraine are interested in similar things. 

I have two favorite devices. The first one is a robotic vacuum cleaner, I've had it for a while now. My girlfriend has actually voiced it! And my last and best purchase is a thermostat Nest. I'm stoked about it.

In general, modern technologies make my life easier. I follow both small and big companies, especially the American ones. The USA is a tech trendsetter: all new products and services come from there.

Sometimes it can be difficult to buy everything you want. I try to be wise when it comes to purchases. There's always an alternative. I don't buy all the most expensive and top-notch products, even though I'd love to. Moreover, it often turns out that the most expensive thing is a disappointment compared to cheaper analogs.
Of course, sometimes I get disappointed by new releases. I got disappointed in Apple, even though I've been using the ecosystem for many years. My biggest disappointment is definitely Apple TV. I tried version 3 and 4 but eventually sold it. The same thing with Apple watch. Although, they have greatly improved it recently: integrated GPS, and electronic sim card, but where will it work? USA and UK only. Same with new MacBooks. It's not only the USB Type C… After switching from 2015 model to 2017, I'm disappointed. 
It gets interesting when I think about Ukrainian products. There are not many of them, but they do exist. I would love to get a Senstone since sometimes I write blogs. The idea is cool, but the product itself is still raw. Let's see how long the production will take and whether the founders get what they tried to achieve. Now I look at Ajax Systems, a Ukraine company that offers security and smart home system. It's patented and certified in many countries. It'd be interesting to try to integrate it into my household. What makes it especially compelling – wireless sensors and a possibility to remotely connect to security companies. We should definitely support Ukrainian products!
Olha Vintonik
Test Engineer, Intellias
If "Confessions of a Shopaholic" were shot in Ukraine, I would, probably, be a prototype of the main character. With a small, yet important difference – I HATE so-called offline shopping.
I hate piles of messy clothes, where it's impossible to find the right size. I can't stand foundation and lipstick marks left on crystal white collars. I hate long lines to fitting rooms. Moreover, I get very anxious and intimidated while being surrounded by many people – which is unavoidable during sales and festive seasons.
Shopping is exhausting and time-consuming. And, don't get me wrong – I'm not a snob and do support Ukrainian brands, but I see how the quality of clothes is better abroad and prices are less expensive. Despite that many brands came to Ukraine lately (hi, H&M, long time no see) I still feel the lack of brand variety.
Especially when it comes to make-up and skincare – as I'm a horrible beautyholic, Brocard stopped exciting me years and years ago. Now I'm always looking for unique, cruelty-free, niche or woman-owned brands. And they are rarely available in Ukraine. And if they are, the price will be higher even if I order from the official website and use services as NP Shopping to get my goods delivered to Ukraine.
But if my favorite brands enter our market, I would still shop online. As, most of all, it's damn convenient. I'm a modern, always-on-the-go busy woman, who wants her free time to be quality time, spend on friends and hobbies, not shopping. I even have my groceries delivered once a week. If, for example, you don't like supermarket food, there are several services which deliver farmer goods from small local businesses. The only thing, which bothers me, is that online shopping is not usually that eco-friendly as if I will buy goods myself – because I would not use excessive packaging and plastic bags. So, I'm trying to be more eco-aware in other spheres of my everyday life to decrease this negative impact.
What advice could I give for my fellow lazy shoppers, who don't want to spend time shopping offline?
Fit and size are always the biggest risks, so here's how you can avoid them:
Firstly, I'll be honest with you – there are some things that are better to be bought in-store first – at least, you need to try them on. These are jeans, lingerie and shoes. For me, the biggest trouble with online shopping is to get the right size of such very specific goods. Now I know brands and sizes which fit me nicely, but before that, I used to go to a store first and try everything on, so later I can easily get it online without any doubts. If brands are not available in-store in Ukraine, make sure you take your measurements and read a brand's size table thoroughly.
Secondly, shop only sites with a suitable return policy. I used to return ASOS stuff several times before finally learned my sizes – and which models fit me the best.
Thus, the next rule is coming from the previous one – be aware that different brands have different sizes. My shoe collection consists of at least three different sizes, as even the same brand might differ in another country.
I would also never buy very expensive or bulky stuff online – as in case of something goes wrong, it would be a headache returning it. Especially if you ordered it from another country.
Now I easily shop for clothes, shoes, makeup, even perfumes; home goods and textile, books, small gadgets, grocery – almost everything you need in everyday life.
Moreover, there are usually lots of nice offers online, so I would recommend subscribing to your favorite stores to get all the promotions (some of them even give discounts for signing up). I follow my beloved brands on Instagram as well and post all the discounts and shopping guides on my Telegram channel. As I know, how hard it is to accumulate all the information, I needed a cozy place where to share my cool findings and thoughts on them. It's quite easy to get lost in nowadays consumerism heaven and to buy stuff that you don't really need. So, I read reviews, create wish-lists – and when a sale is on, I'm prepared.
Keep in mind that Internet is fun, but still not a very safe place, so make sure no one steals your payment card info. First, make sure that you shop from official brand online-stores. And that connection to that website is secure – simply check the SSL Certificate. Yeah, I know, thanks, Captain Obvious, but not so long time ago one super popular makeup brand got into a huuuge scandal – all customers' payment details and sensitive data were stolen. You bought a lipstick and lost all your money. Not cool.
So, the next nice thing you can do is creating a PayPal account.
It's also a good idea to separate your salary card with your shopping-for-fun card. And to enable two-factor authentication.
Okay, and one last advice from very wise, still impulsive young lady – set spending limits. It will stop you from buying unnecessary stuff, help to take better control of what and how you spend money, and – in the worst case scenario – if someone steals your card data, there won't be much they can take.
All in all, I love online shopping. Sometimes it doesn't help conscious consuming, but you can always leave your online cart overnight and consider if you really need something – in order not to feel guilty afterwards.
Oleksandr Pidlisnyi
Lead Node.JS Engineer at Perfectial
I have various IoT devices – both by famous brands, and handmade. The most famous ones are Google Home and Google Home Mini. I use them not only for communication with Google Assistant but also as loudspeakers. I have Google Home in my living room since its loudspeaker is significantly more powerful (both the microphone and the speaker). It's perfect for my living room. All other rooms are equipped with Google Home Mini. Sized as a donut, it has a fairly loud speaker.
The most popular user case is listening to music, you can broadcast it from your phone to any particular speaker, or a group of them. You can also ask the assistant to play something from Google Play Music. Then, the iteration with other devices begins. Among the most simple things – Yeelight smart bulbs (by Xiaomi). I change regular light bulbs to smart ones, group them when needed and add to Google Assistant. As a result, we control all light at home with our voice. It's very convenient when you're in bed and don't feel like getting up just to turn off the light. But, it's not necessary to use smart light bulbs, you can also buy smart switches.
Right now I'm waiting for Google Home Hub. It's like Google Home, but it also has a 7-inch screen, so now you can see all the info (including YouTube).
There are lots of scenarios – from simplest ones to more complicated, and new ideas arise constantly. For example, one of the scenarios I use is a voice command "I'm home": as I say it the light turns on, water valves open up, etc. In another scenario I use, my desk lights turn on and the computer starts.
Handmade devices are what makes it really interesting. Here China really helps out – for a small amount of money you can order a relay online that will make any piece of wire "smart". It allows you to control the power of any device. I really like to build something myself, solder things, and improve them. It was interesting for me to make lightning sensors and control systems for window blinds. Of course, there are ready-made solutions, but their prices are often not very budget-friendly. I also wanted to write smart home automation, a platform for managing all devices, but I don't have enough time for it.
Such hobbies never have a positive effect on the budget. I also like radio-controlled models and this hobby is very expensive. Models can cost more than $500, and an additional $500-1000 are normally spent on their technical equipment. All devices, sensors, switches, bulbs, etc. cost a lot, but it's the future of tech! It's cool that already now we can live in smart apartments or houses.
Technologies allow us to automate routine operations (Google Assistant has a section Routines – one command allows you to perform a certain set of actions). This is exactly the case when human laziness promotes technology development. As a result, we can open/close window blinds, turn the light on/off, turn on the kettle, etc. while lying in bed. At the same time, with the help of water sensors, we can automatically block the water flow to avoid flooding our neighbors. Smoke sensors have long been able to turn on a fire alarm and even a fire extinguishing system.
I like to watch how my home is becoming more autonomous. Hopefully, my home will be even more integrated in the future.
Taras Mazurkevych

Bot Developer & Team Lead at Chatbots.Studio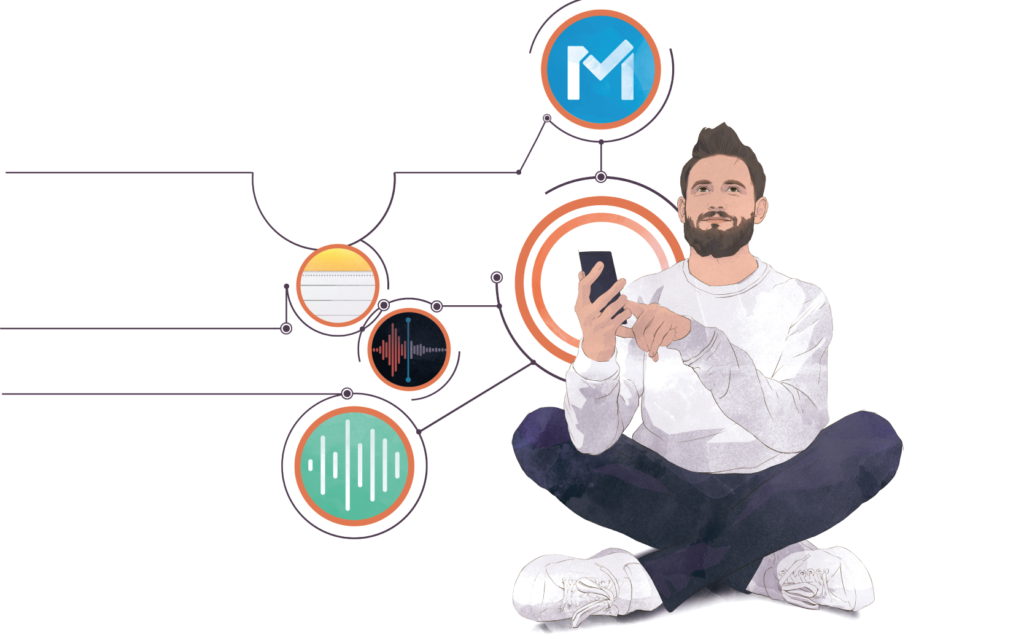 I love using different apps. They help me stay organized and keep track of my progress, be it work-related stuff or my health. A few of my favorite apps are:

MooDo – my main tool for planning. All my plans, goals, projects, and tasks are gathered there, starting from my career plans and up to paying bills or house cleaning reminders. MooDo focuses on a Getting Things Done methodology. GTD is a work-life management system I first discovered 4 years ago and now can't imagine my life without. The killer feature of this product is a visualization of all tasks sorted by time and date. It helps when you plan meetings and daily to-dos.

Apple Notes, Apple Voice Memos. When I need to make a quick note, I use default Apple apps. Information doesn't stay long there. Whenever I have some time, I transfer everything to MooDo.

Noisli – the app with a variety of background noises that helps me concentrate at work. You can choose different modes, for example, relaxed or productive or pick something from a range of sounds, like wind, fireplace, rain, cafe, etc. I use the app when I get bored of listening to music. In addition to sounds, the app offers a timer and text editor which is rather convenient.

I can't call myself an early adopter, and things I use might not be brand new. Though, I really encourage everyone to try out MooDo, which I mentioned above. I have personally tried more than 15 task managers, and have been using this one for over 4 years now. 
Another thing I can suggest would be Nike+ Run Club. It helps to create and adapt training programs according to your results. With Nike+ Run Club, I trained to run a marathon in just 9 weeks.
 
I think my addiction to different apps and programs goes back to school. I had so many extra classes and tasks, I wanted to stay organized and be sure that I wouldn't forget anything. I refused using notebooks immediately because I needed flexibility and a possibility to quickly move information from one channel to another. Now, I need a minute to change day plans, I wouldn't manage to do so with a traditional notebook.
In most cases, a free version of an app is enough. If not, I buy a premium version. Most apps cost from $1 to $20, so they pay off rather quickly. 

Right now, I pay for a Spotify subscription. I also bought Runtastic and Runtastic mountain bike pro, but I only use Nike+ Run Club. I got a one-year subscription for Habit tracker, but then decided it's not for me. Also, I had a one-year subscription for a youth opportunities platform, but that turned out to be a waste of money. It was a platform called HeySuccess. I tried to find something suitable for myself maybe 50 times, but everything seemed irrelevant. Though, they have many events. 
It often happens that I use a service for a while and then find out that it's a product built in Ukraine. Ukrainian companies are often registered in other countries, so it's not obvious. It happened to me with Grammarly for text checking and Gitlab for git deployment. It's impressive to see our companies showing great results at global competitions.